How do you handle cargo that is 1.150 cubic meters and weighs 192 tons? When the box doesn't fit, we think outside of it. This is how we helped one of our customers with project logistics – successfully transporting heavy cargo from Spain to Germany by sea and road.
What is project logistics?
Sometimes, regular transportation methods just won't cut it. That is where project logistics comes in. It is all about handling and moving really big, heavy, and specialised items that need a lot of planning and expertise and usually require special handling. We are talking about huge industrial equipment, machinery, and other oversized items used in industries like construction, oil and gas, energy, mining, and manufacturing.
Helping a global leader in sustainable technologies
Recently, a customer needed our help with project logistics. The company is a global leader in sustainable technologies that specialises in advanced metals chemistry. Through their technology and expertise, they help energy, chemicals, and automotive companies decarbonise, reduce harmful emissions and improve their sustainability performance.
A logistics partner with know-how in project logistics
Our customer was looking for a reliable logistics partner with the know-how, experience, and capabilities required to move big and oversized items. The shipment included heavy equipment for the chemical process industry, such as a methanol vaporiser, a reactor, a condensate tank, a steam generator, and equipment for a heat transfer fluid system.
The total size of the cargo was about 192 tons and 1150 cubic meters. The largest piece was 23 meters long, 3,4 meters wide, and 3,5 meters high. The heaviest piece weighed 60 tons alone. As you can imagine, this was a heavy-duty challenge for sure!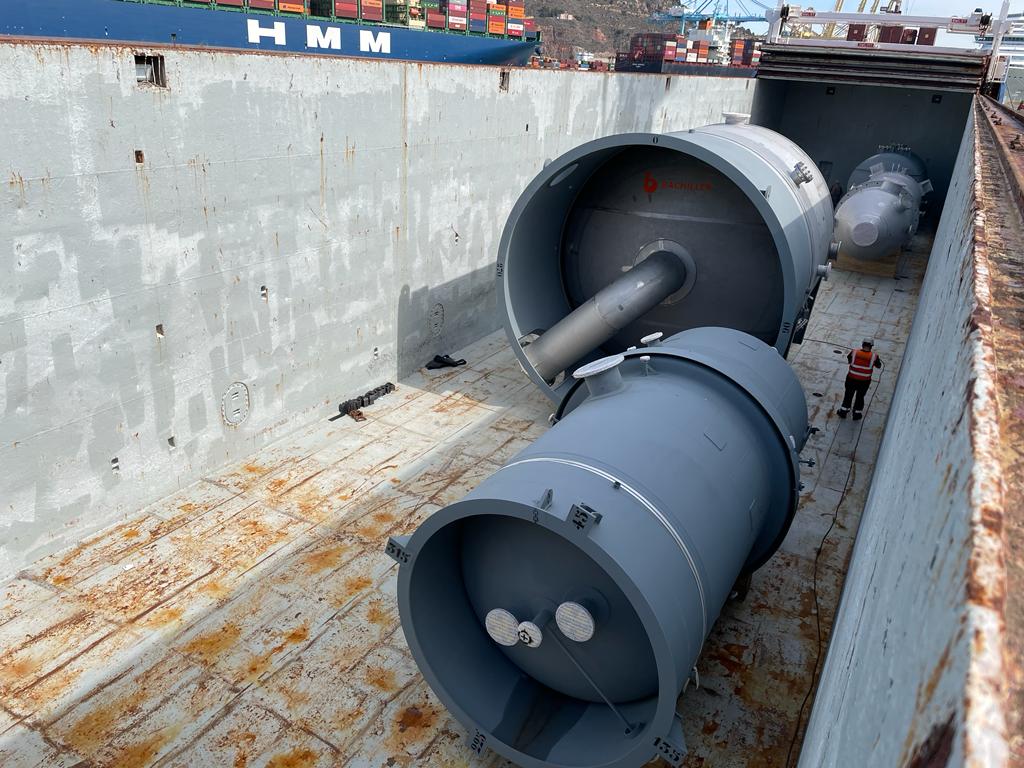 Heavy lift cargo shipped by sea and road
The first batch of cargo was loaded onto a vessel in Barcelona, Spain. The vessel then sailed to Leixoes in Portugal, where it was loaded with a second batch. Two weeks later, the vessel arrived in Wismar, Germany. The next day, we unloaded the cargo for further transport by truck to our customer's factory located near the port.
To be able to unload the heavy 60-ton piece, we had to bring in a mobile crane since the shore cranes in the port of Wismar didn't have enough capacity. By using the mobile crane, we could directly transfer the cargo onto a waiting trailer. The vessel then shifted quay, and the remaining cargo was unloaded using the shore cranes.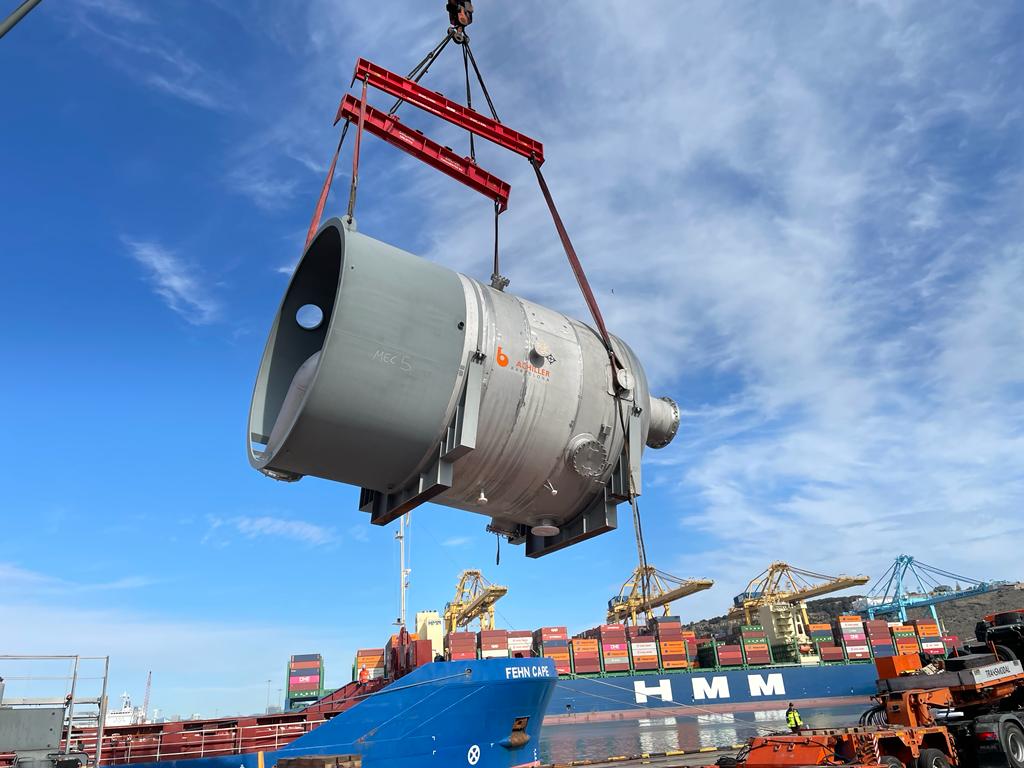 The challenges of handling heavy cargo
Project logistics shipments are characterised by their unique nature and high level of complexity. Understanding the specific requirements of each customer, along with being transparent about the feasibility of the tasks at hand, is crucial to offer the right solution. To make sure the cargo gets where it needs to go safely and smoothly, you need to carefully plan the best route and check if everything is possible.
Conducting thorough risk assessments is important, as the primary goal is to ensure the safety of people, goods, and the environment, striving for zero harm. And keeping alert during the process is paramount – as unexpected things can happen at any time. During the unloading in Wismar, there was a large explosion at the factory. For a couple of hours, we didn't know if we could continue our deliveries or not. Fortunately, the explosion took place at a considerable distance from our delivery location. Despite experiencing some delays, we were able to safely and successfully deliver the cargo.

It is also essential to build a strong team internally around the project. Selecting reliable partners to discuss the best solution for a specific project is also key. In this case, we worked together with Noatum Logistics in Spain and Portugal and Gruber Logistics in Germany, which both did a great job.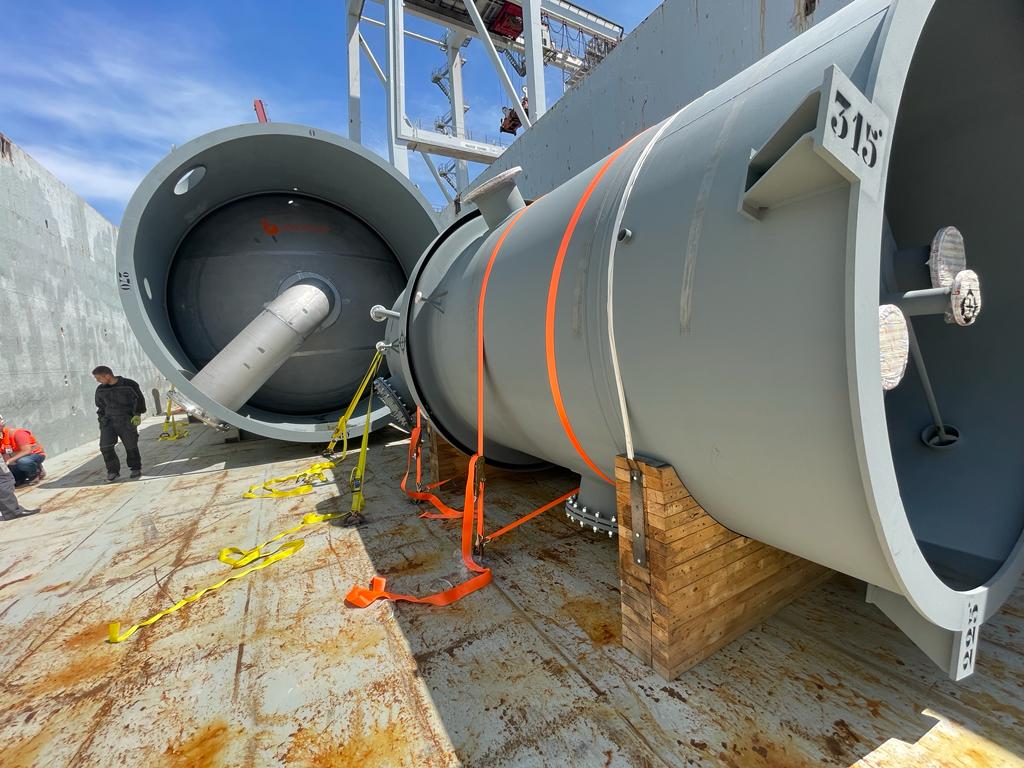 Do you need help from an expert in project logistics?
I hope this article gave you some insights into project logistics and the help you can expect from a reliable logistics partner. At Hecksher, we have the knowledge, the tools, and a bunch of trusted friends in the business to make sure your cargo gets where it needs to be. We make the impossible possible by thinking outside that good old box. When regular ways of moving things just won't work – project cargo is the answer.
Do you also need help with project logistics? Don't hesitate to contact us!